Roof Ventilation Systems: Cor-A-Vent V-300® Ridge Ventilation System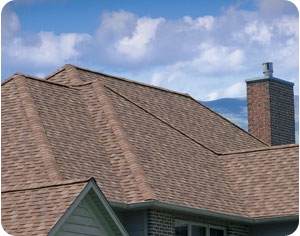 NEW V-300E in 11", 8 1/2" and 7" widths are the same great product as regular V-300® but with an added Enhanced Snow Screen™ to prevent fine snow from entering the ridge vent.

The V-300 product line is our lowest profile ridge vent line. It works equally well under shingles as well as shakes or slate roofing. V-300E products are ideal for hip use. The low profile make the hip vent blend in with the roof. If you are looking for a low profile ridge vent that still provides plenty of ventilation our V-300® product line is your answer.

V-300 used with Shingle

V-300 used with Flat Tile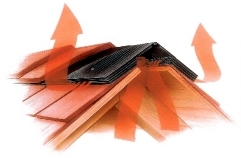 Key Benefits
13.5 sq. in NFVA per lineal foot
5/8 inch low profile design
Use V-300®E as a hip vent
3 widths to choose from: 11", 8 1/2" and 7"
Use on all slopes from 3/12 to 16/12
Crush Proof Design
Made from heat resistant polypropylene
End View 1
PDF &
End View 2
Pdf files.
For dimensions if you have AutoCad open the
End View 1
Dwg &
End View 2
Dwg files.
You can also view our
"Balanced Ventilation: How it works" FAQ sheet
.
V-300® Brochure
click here
.
Frequently asked questions (FAQ)
click here
.
Click here
for our complete list of Technical Drawings.
Product Packaging and Shipping Information for V-300® 11", 8.5" and 7" widths
Pcs Per Unit

12 - 4 foot pcs.
Shipping Weight Per Unit

30 lbs.
To request more information about the V-300
click here
to contact us.
Figure your Ventilation Needs