Introducing New Revolution Rolled Ridge Vent
by steve • June 16, 2009
(Originally posted Feb. 2009)
First Truly 'Green' Ridge Vent, available in March '09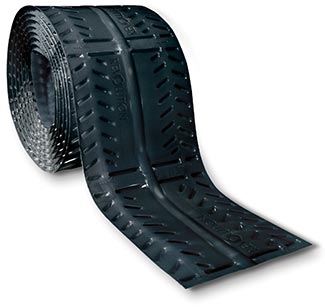 COR-A-VENT, Inc. is proud to introduce the first shingle-over ridge vent made from 100% pre-consumer recycled plastic, NEW
Revolution Rolled Ridge Vent
.
Revolution (REV-11) is the only truly "Green" ridge vent available (certification pending). The 11-inch wide by 20-foot long plastic vent core is made entirely from the same polypropylene plastic used to manufacture all of COR-A-VENT's other products. We meticulously capture the excess scrap during production, reprocess it and feed it directly into the Revolution, keeping it out of landfills while also reducing the use of petroleum needed for new plastic production.
Revolution's precisely spaced ventilation channels provide 12 square inches of Net Free Vent Area per lineal foot to promote the removal of damaging moisture and heat from inside your attic. This helps reduce heating and cooling loads when used in conjunction with balanced intake ventilation. The simple, yet highly effective structural design of Revolution supports power-nailability for easy installation on asphalt shingle roofs, while also providing protection from rain, snow & insects.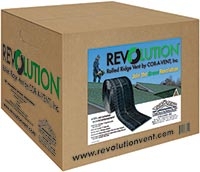 Thanks to the exclusive Starter Band, Revolution's easy-to-handle 20-foot rolls allow for one-man installation. Each box of Revolution also includes two coils of 1 ¾" galvanized roofing nails and peel-and-stick Revolution End Caps.
Available in 2009. Join the Revolution – visit
http://www.revolutionvent.com/
for release dates, installation instructions and links to construction details and more COR-A-VENT information. Over 30 years ago, COR-A-VENT, Inc. introduced the first shingle-over ridge vent and changed residential roofing forever. Today, COR-A-VENT is the most widely recognized name for venting residential and light-commercial structures – A Trusted Name in Attic Ventilation since 1976™.