Introducing New STURDI-SPACER™
by steve • February 16, 2016
MISHAWAKA, Ind. – Cor-A-Vent Inc. is proud to introduce the next in a growing line of ventilation products for metal roofing, the new Sturdi-Spacer™ – a heavy-duty, breathable spacer strip for retro-fitting new metal roofing over existing shingle roofs.
CLICK HERE TO DOWNLOAD THE STURDI-SPACER BROCHURE
Sturdi-Spacer installs in continuous rows, 2-feet on-center up the roof, just like wood batten strips. The difference, though, is the airflow – Sturdi-Spacer allows over 3 square inches of Net Free Vent Area to create a breathable batten system between the two roofs, allowing trapped moisture to drain away and fresh air to pass through. Create a minimum 1/8" air gap at the bottom of the roof behind the drip edge, and Sturdi-Spacer will provide an extra boost of intake ventilation from the eave to the ridge, enhancing the performance of ridge/exhaust ventilation at the top of the newly-installed metal roof.
Sturdi-Spacer (product code: SP-1) is made from 5/16" (8mm) thick single-ply Polypropylene plastic and comes in strips that are 2-inches wide by 4-feet long. They are power-nailable and power-screwable, and will not compress like other commercial spacer products on the market. Metal panels or hidden clip systems can be applied directly to the Sturdi-Spacer for easy installation.
STURDI-SPACER™ KEY FEATURES:
Breathable Spacer -- Over 3" N.F.V.A. per foot to provide airflow & moisture drainage between roofs
Intake Booster -- Provides additional intake ventilation to enhance ridge/exhaust vent performance
Power-Screwable & -Nailable -- Heavy-duty 5/16" (8mm) thick PP material won't crush or compress
Easy-to-Handle -- 4-foot long strips are more convenient to transport and handle on the roof
Lifetime Warranty -- Guaranteed to last the life of the roof with which it is installed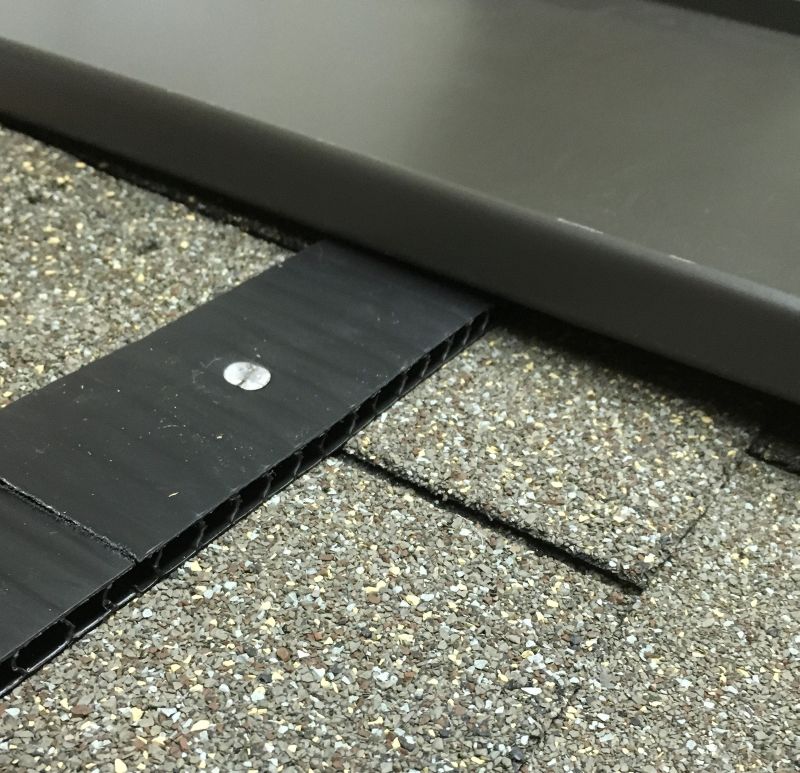 CLICK HERE for a PDF download of the Sturdi-Spacer endview installation drawing.
Inquiries about the new Sturdi-Spacer, or any of Cor-A-Vent's products, can be directed to Steve Lowe, Cor-A-Vent Inc. National Sales Manager, at 800-837-8368, or steve@cor-a-vent.com