Introducing New V-600®E Ridge Vent
by steve • January 13, 2014
**** FOR IMMEDIATE RELEASE ****
January 13, 2014
COR-A-VENT INTRODUCES NEW V-600®E RIDGE VENT
Will replace V-400E, X-5 ridge vent lines
ALLOWS 15% more airflow, will cost up to 5% less
Mishawaka, Ind. – In 2013, Cor-A-Vent Inc. introduced packaging changes to some of our products in an effort to simplify our processes, control costs, and continue to provide customers with the same great products at the same low prices. These changes are ongoing, and 2014 will see several more.
The first of those changes will be the introduction of V-600®E –
the ridge vent with the highest airflow and Net Free Vent Area
(NFVA) in the industry,
now with the Enhanced Snow Screen
, an exterior weather filter that
keeps blowing rain and snow out of your attic
. Unlike other ridge vent filters which are placed inside, the Enhanced Snow Screen is secured to the outside of Cor-A-Vent's ridge vents, to
stop weather from entering at all
.
The V-600®E, available on Feb. 1, 2014, is part of the V-600® line of ridge vents that Cor-A-Vent has been producing since the mid-1990s, and follows the same basic design as the original Cor-A-Vent shingle-over ridge vent that our customers have been counting on since 1976. That's nearly 40 years of on-the-roof performance. V-600®E is a 1" thick, 4' long ridge vent that does 20 square inches of NFVA per foot, which is the most of any ridge vent on the market. It is available in 11" and 8 ½" widths for use with a number of different roofing materials, like shingles, cedar shakes, metal, slate, composites, tile, and more.
This addition to the product line is partly due to two subtractions.
Beginning April 1, 2014, Cor-A-Vent will no longer offer the V-400E and X-5 ridge vents
. One reason for this is the loss of a key supply line for the Active Weather Foil, a main component of the X-5 ridge vent. To be able to offer this product any longer, Cor-A-Vent's costs would rise considerably, and we weren't willing to charge our customers considerably more as a result. Another reason to make this switch is due to the effectiveness of the exterior Enhanced Snow Screen, which was introduced in 2004. The Enhanced Snow Screen, besides stopping snow completely at the point of attack, is also just as effective at stopping rain from entering during a storm.
The
V-600®E will replace the V-400E and X-5 ridge vents
, both of which allowed 17 square inches of NFVA. Compared to the
20" NFVA with V-600®E
, you will get the same great product, with the same excellent weather protection you had before, but with
15% MORE AIRFLOW
, and at
A LOWER PRICE, UP TO 5% LESS
.
As we did earlier in 2013 with our Revolution Rolled Ridge Vent, Cor-A-Vent is also eliminating the cardboard box packaging of all its ridge vent products, including the V-600® line (see image below). It will still include 2 bags of 2 ½" roofing nails and four End Plugs, but much less packaging waste that would just find its way into a landfill.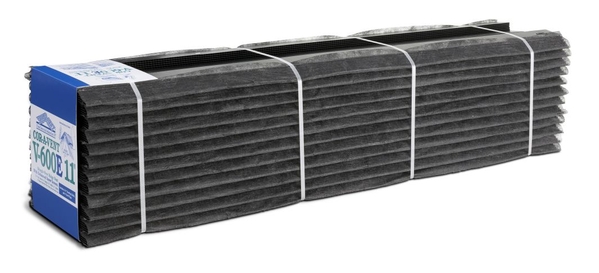 Inquiries about these changes can be directed to Steve Lowe in the Cor-A-Vent Inc. sales department. He can be reached at 800-837-8368, and
Click Here
to contact him.