Looking for Sturdi-Starter & Sturdi-Battens in the Pacific NW?
by steve • June 21, 2016

Sound Building Supply has long been a distributor in the Seattle, WA area for Cor-A-Vent ridge, soffit and siding vent products, but that's not all they carry. Sound is your source in the Pacific NW for two of Cor-A-Vent's newer products, as well: the
Sturdi-Starter -- a starter strip for lap siding
, and the
Sturdi-Battens -- breathable batten strips
for use behind vertical, panelized, or shingle siding.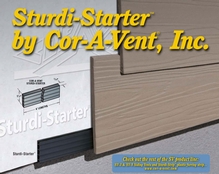 Call Sound today at (425) 264-0264, or visit their website:
http://www.soundbuildingsupply.com/index.html
to get your hands on these two new specialty items from Cor-A-Vent.