NEW -- Roof-2-Wall Kit Now Includes Caulk
by steve • March 22, 2016
MISHAWAKA, Ind. – Cor-A-Vent introduced the
Roof-2-Wall
Vent package 10 years ago, and it was the first of its kind – not just a box of vents, but a ventilation kit with the accessories you need to do the job right: a roll of aluminum flashing, a bag of roofing nails, and end caps. Today, that package just got better.
Now, everything you need for the job of venting this tricky detail is truly in the box with our
newest addition – a tube of high-performance sealant
. Each box of Roof-2-Wall Vent now comes with a
10.2 oz tube of ASI 57 Modified Polyurethane Sealant
(black in color).
CLICK HERE TO DOWNLOAD THE NEW ROOF-2-WALL BROCHURE
The
ASI 57
is designed for outdoor use in all conditions. ASI 57 cures when moisture is present without outgassing, making it ideal for wet or dry climates, and is extremely resistant to weathering and UV degradation. It provides excellent seal to asphalt, metal, vinyl, plastic, and many other surfaces.
The Roof-2-Wall vent is half pcs. of our most popular line of ridge vent, the V300. It comes with our Enhanced Snow Screen to keep out weather, is power-nailable for quick installation (hand nails are included in the box), and provides
6.75 square inches of Net Free Vent Area per linear foot
.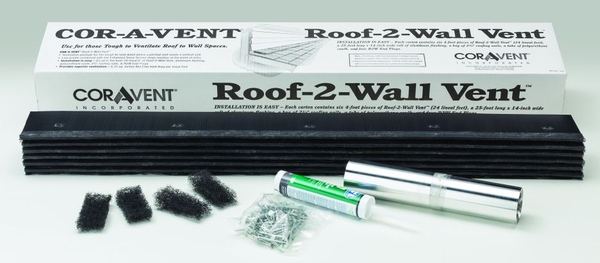 The Name Says it All…
Cor-A-Vent's Roof-2-Wall Vent™ is a complete ventilation package for the tough-to-vent detail where a pitched roof meets a vertical wall. Roof-2-Wall Vent has everything in the box you need to install:
• 6 (six) 4-foot pcs. of Roof-To-Wall vent (24 lin. ft.) that provide 6.75 sq. in. of Net Free Vent Area per lin. ft. while stopping rain and snow at the point entry thanks to the Enhanced Snow Screen.
• 25-ft. by 14 in. wide roll of aluminum flashing
• A tube of polyurethane caulk (black in color)
• A bag of 2½" roofing nails
• 4 R2W End Plugs
CLICK HERE TO DOWNLOAD THE NEW ROOF-2-WALL BROCHURE