Cor-A-Vent Purlin Vent
Is your insulation a wet blanket? Chances are it is. You know the problems all too well—cold side condensation on your metal roof and siding. You probably can't see it, but, it could be robbing you blind. Even slight amounts of moisture in blanket insulation can seriously reduce its R-value. Don't count on vapor barriers—every seam and penetration has to be sealed perfectly, and how often does that happen on the job? Moisture vapor penetrates just about everything, and once it's trapped, you have problems. The heating bill goes up, insulation can sag and the roof fasteners and purlins will start to rust. What do you do? Next building, you specify Purlin Vent™, from Cor-A-Vent—"The Leader In Innovative Rooftop Ventilation" ®

Purlin Vent is the first real system solution for venting behind roofing and siding in metal buildings. Made from sheets of crush proof profile extruded PP* Purlin Vent serves as an excellent thermal break between the metal roof and the purlin when foam insulation is used. For blanket insulation, Purlin Vent with Insulation Shield does two things. One, it keeps the blanket insulation away from the underside of the roof. Two, it creates a passageway for moisture to diffuse harmlessly to the outside. When used with any of Cor-A-Vent's metal roof ridge vent applications, it creates a very effective system for removing moisture and keeping your insulation dry.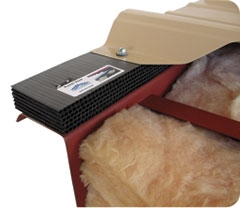 Performance

Purlin Vent can carry a load as well. One square foot of the 6-ply PP boards COR-A-VENT uses, equal to a 4-foot piece of Purlin Vent, passed crush tests, conducted by an independent agency, up to 7,653 lbs.

Call COR-A-VENT at (800) 837-8368 for more information on new Purlin Vent, including the Purlin Vent Calculator, COR-A-VENT's formula to figure out just how much ventilation your metal building will need to stay dry for years to come.
Key Benefits
Provides cross ventilation both horizontally and vertically between the purlins.
Provides a thermal break with an R value of 3.1.
Net free vent area (NFVA) of 40 sq. in. per 4' section
Made from thermally stable, crush resistant polypropylene (PP) sheets.
Doesn't compress over time, so roofing & siding screw holes don't elongate and leak.
Supplements ASHRAE 90.1 - 1999 Model Energy Code (MEC) requirements when vapor barriers greater than 1 perm are used.
NAIMA, NIA and 2000IEEC call for cold side ventilation as a design consideration in controlling condensation and meeting required U values of the Model Energy Code.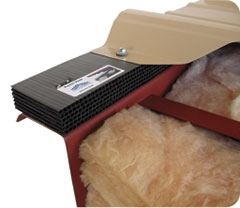 For detail drawings with Purlin Vent Blocks
click here
To see the Purlin Vent Brochure
click here
Product Packaging and Shipping Information
Pieces Per Unit

12 - 4 foot piece
Shipping Weight Per Unit

13 lb
To learn more about Purlin Vent
click here
to contact us.