RS-400 Raft-A-Vent™: Bird Block Intake Vent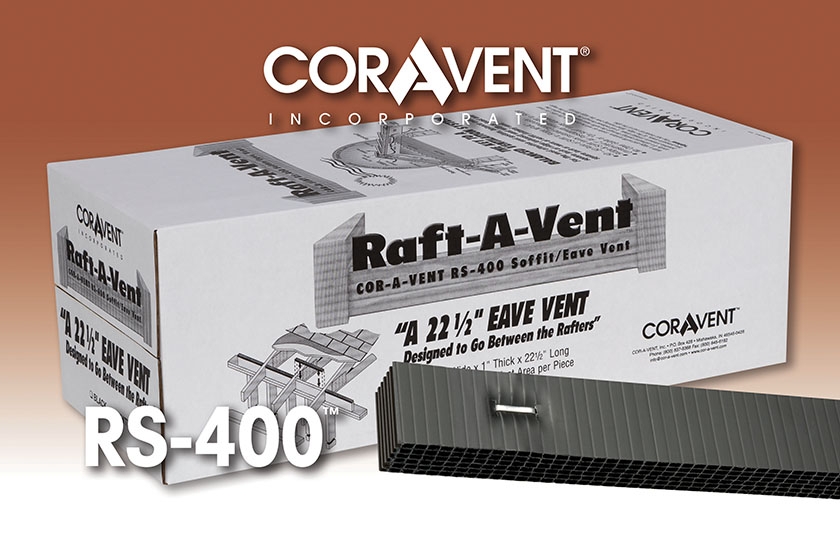 Providing soffit ventilation for open-rafter construction has long been a headache for many builders. The options have been few, consisting mainly of a couple of screened-over holes in the blocking or a few metal grates every two or three rafter bays that don't provide nearly enough ventilation and, quite honestly don't look very good.

But Cor-A-Vent has the answer with, Raft-A-Vent, a 22.5" long vent strip designed to fit between the rafters, on top of the blocking. Raft-A-Vent is the ideal product for this situation. At only one inch thick, Raft-A-Vent will virtually disappear under the eave, but still provides 18.75" of Net Free Vent Area per piece and is designed to run continuously in every rafter bay to provide the superior intake ventilation you need for a balanced vent system.

Good ventilation helps reduce moisture buildup and the possibility of mold growth. For an unmatched system, pair Raft-A-Vent up with any one of Cor-A-Vent's ridge vents, like V-300CS or FAV-20 81/2".

Any of our soffit vents can be special ordered with stainless steel staples for areas that may have high corrosion or rusting concerns (seacoast, lake front, or industrial areas).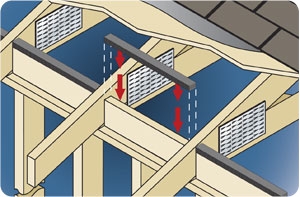 18.75 square inches of NFVA per piece
1" x 1 1/2" x 22.5" cross section
Made from heat resistant polypropylene
Power nailable or screwable for fast installation
Two color choices (black or white)
Now available with type 304 Stainless staples - Special order Item
Proper Ventilation helps stop mold problems
Do you have rafters that are 16 inches on center? No problem! Purchase the S-400 and cut it to size. Each 4-foot long piece of S-400 will give you three 14 1/2" pieces. That's 72 pieces from each carton of S-400, with very little scrap. Each 14 1/2" piece will provide 12 square inch of net free vent area (10 square inches per lineal foot).
Click here
for the Raft-A-Vent brochure
Click here
for our complete list of detail drawings in both PDF and DWG formats.
You can also view our "
Balanced Ventilation How it works
" FAQ sheet.
Frequently asked questions (FAQ)
click here
.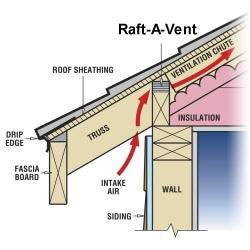 Product Packaging and Shipping Information
Pcs per Unit

48 - 22.5" pieces per carton
Shipping Weight per Unit

10 lb
To request more information about Raft-A-Vent
click here
to contact us.