Sturdi-Batten™ - Drainable Rainscreen Batten Strip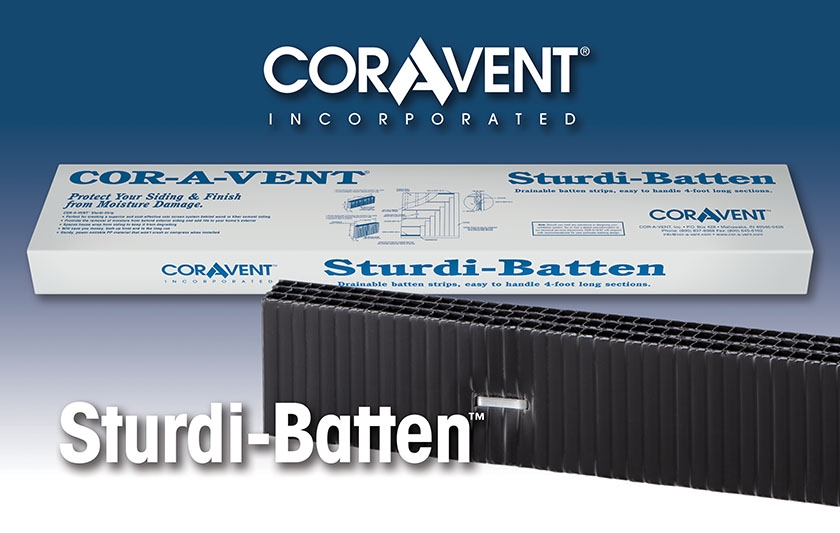 The NEW addition to Cor-A-Vent's Rainscreen Siding Vent System
Sturdi-Batten™ -- For use behind Vertical, Panel & Shake siding
The Sturdi-Batten Advantages
DURABLE: Three plys of heat-resistant PP plastic create a 7/16" thick batten strip that won't crack or compress like "drainage mat" style products when power-nailed, screwed or stapled in place.

VERSATILE: Use with a number of applications, including vertical siding, panel siding and cedar shakes.

RELIABLE: Vertically-oriented airways allow both moisture drainage and drying airflow between your siding and housewrap, adding life to your home's exterior

ECONOMICAL: Save money using Sturdi-Battens instead of drainage mats, which must be applied to the entire wall. Sturdi-Battens can be installed only as often as required by your siding manufacturer's recommendations, meaning lower cost. -- NOTE: For 16" on-center installation you'll need one linear ft. of Sturdi-Battens for every square ft. of wall space you are covering.
Specifications
7/16" thick by 1½" wide

Easy-to-handle 4-foot long sections

Pairs perfectly with the SV-3 Siding Vent

48 pieces per carton (192 lineal feet)

Color: Black

Heat-resistant: made from profile extruded polypropylene plastic

Impact-resistant: screw, staple or power-nail in place

Crush-resistant: Will not compress like "drainage mat" products

Panel Siding Ventilation Detail w/Cor-A-Vent ® Sturdi-Batten™ & SV-3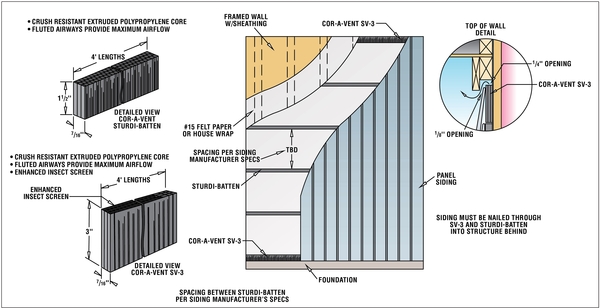 Shingle or Shake Siding Ventilation Detail w/Cor-A-Vent ® Sturdi-Batten™ & SV-3™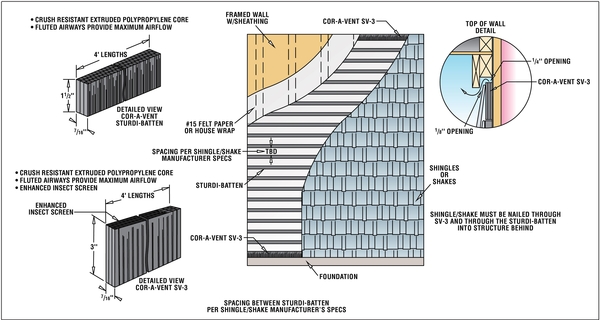 Vertical Siding Ventilation Detail w/Cor-A-Vent ® Sturdi-Batten™ & SV-3