Roof Ventilation Systems: Cor-A-Vent V-600®, V600®E & V-600®T/TE Ridge Ventilation System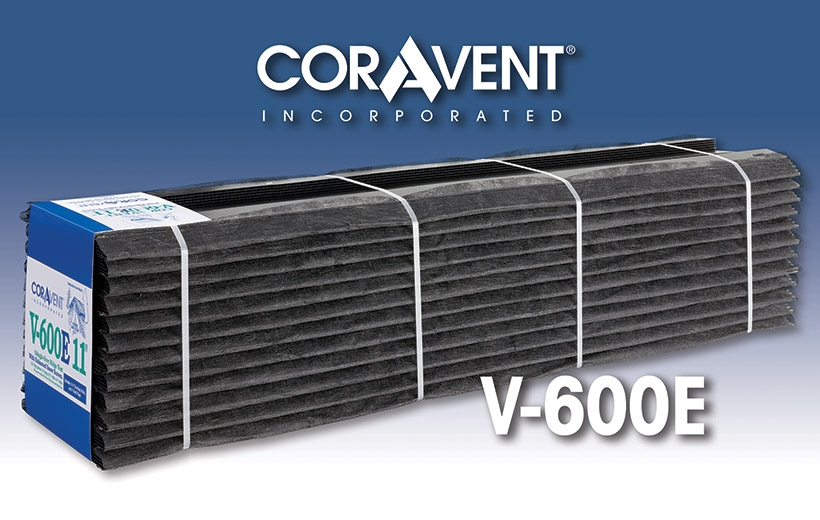 When you need ventilation, you need the V-600 -- at 20 sq. in. of Net Free Vent Area per linear foot, V-600 has the highest airflow in the industry. NEW V-600E in 11" and 8 1/2" widths are the same great product as regular V-600 but with an added Enhanced Snow Screen™ to allow air out of your attic, but prevent weather from getting in. V-600 is the vent of choice for architects -- Cor-A-Vent's most commonly-specified ridge vent by architects and designers when they need superior ventilation with their project.

For metal or barrel tile roofs, use the V-600T or V-600TE with Enhanced Snow Screen. One piece installs on each side of the ridge to give you flexibility with different ridge cap sizes. For metal applications, V-600T and V-600TE install on top of the metal panels, underneath the cap, to provide better airflow than other "profile-matching" vents made from foam or polyester material.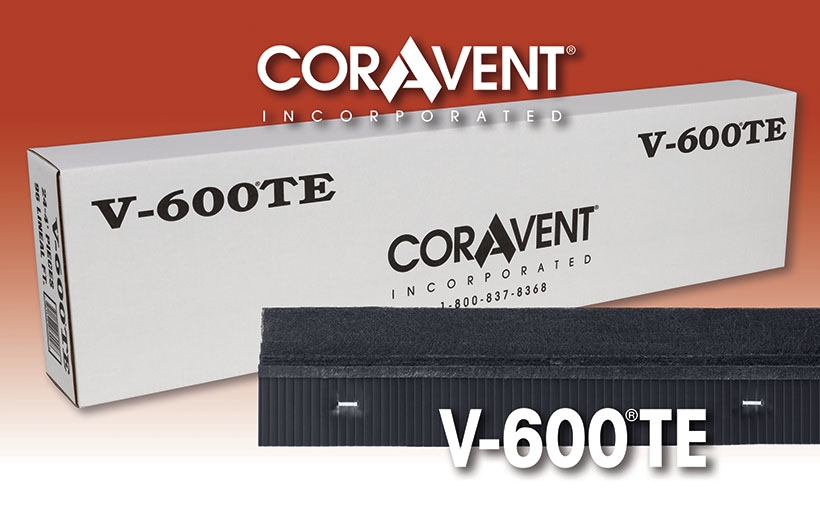 ---
V-600 & V-600 T/TE Specifications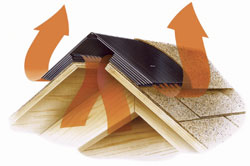 V600 - 11" & 8 1/2" and V600E – 11" & 8 1/2"

The highest airflow in the industry for nearly every pitch - from 3/12 to 16/12. For use with shingle, cedar shake, metal, and tile roofs.

• Available in 11" and 8 1/2" widths.
• 20" NFVA provides superior ventilation.
• Available in new 'E' version -- Enhanced Snow Screen.
• Packaged with 2 1/2" roofing nails and end plugs in each bundle.

12 - 4' pieces per bundle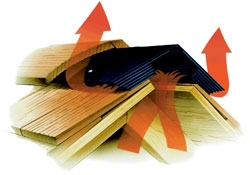 V-600T & V-600TE

For use with standing seam or profile metal, and barrel tile roofs.

• 1" x 3 1/4" x 4' profile
• 10" NFVA, per lineal foot, per piece
• Covers: 48 l.f. ridge

24 - 4' pieces per carton

Key Benefits

You can also view our "Balanced Ventilation How it works" (138KB) FAQ sheet.
Frequently asked questions (FAQ) click here.
Click here for our complete list of Technical Drawings.
Product Packaging and Shipping Information for V-600® and V-600®CS

Pcs Per Unit

12 - 4 foot pc
Accessory Items Included

2 1/2" Nails & End Plug
Shipping Weight Per Box

30 lb
To learn more about our V-600 line
click here
to contact us.
Figure your Ventilation Needs