Airflow Test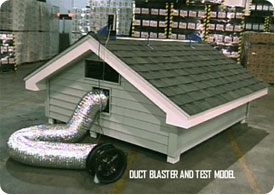 All tests were performed on a hermetically sealed test model, according to the specifications of the test equipment. Each vent was mounted over a 91" long by 2" wide exhaust slot on the ridge of the roof model, and sealed top and bottom (closed cell foam strip) so the airflow measured was through the ventilation openings in each test vent.
The Duct Blaster test components meet the flow calibration specifications of both the CGSB Standard 149.10-M86 and ASTM Standard E779-87. The Minneapolis Duct Blaster has a fan flow accuracy of +/- 3 percent using the Energy Conservatory Digital Manometer (DG-3).
Note: The 5 pascal pressure utilized was chosen because it is one of the smallest units of pressure that is commonly used for airflow / pressure measurements. As an example, 5 Pascals = 0.0014765 inches of mercury, or 0.000725 pounds per square inch of air pressure. This is similar to the low wind speed and pressure typically found in an attic roof cavity on a calm day.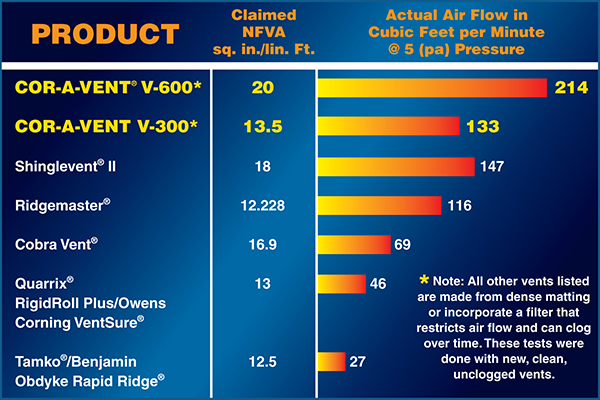 Note: these tests, measurements, and calculations were performed using the Energy Conservatory Minneapolis Duct Blaster (Series B) fan assembly, in conjunction with the Minneapolis pressure and fan flow gauge (Digital Manometer Model DG-3).

To learn more about the Airflow Test, click here to contact us for more infomation.


Back to Top