SV-3 Rainscreen Siding Vent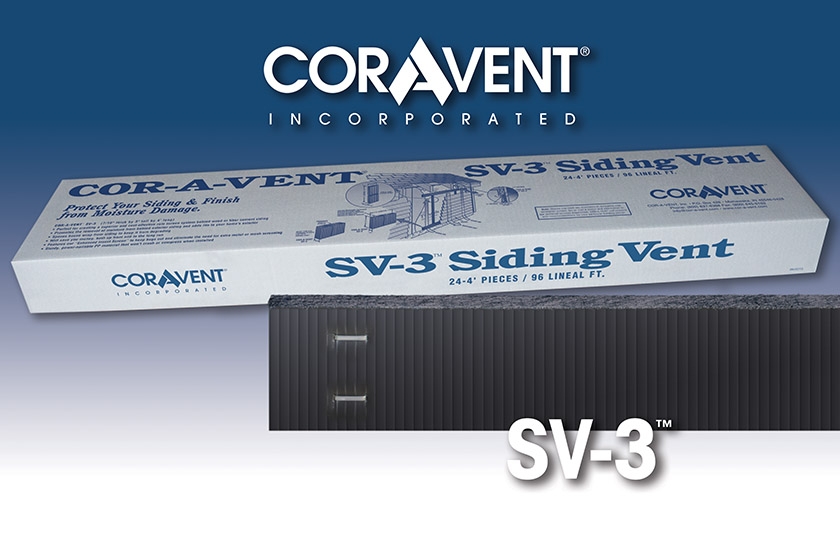 A simple, effective solution for rainscreen ventilation behind wood, hardboard & fiber cement siding.
Venting behind your siding is just as necessary and valuable as venting your attic. Trapped moisture from driving rain or condensation can cause major problems. Paint peels off, exterior sheathing gets wet, siding can warp and your house wrap becomes saturated. The 7/16" thick SV-3 Rainscreen Siding Vent solves these problems with a minimum amount of work and expense.
Match the SV-3 with
Cor-A-Vent's Sturdi-Strips
polyproylene furring to create the Siding Vent System – the first commercial rain screen system on the market**. The first part of the system is the heavy-duty Sturdi-Strip furring strips, which hold the siding away from the wall, creating the necessary minimum capillary break (3/8" or 10mm) that will allow moisture to drain away instead of becoming trapped. The SV-3 at the top and bottom of the walls will let that moisture drain out and allow fresh air to pass through, keeping the system dry, all while keeping insects out. The Siding Vent System was designed to last and will not crush or compress like competing "drainage mat" rainscreen products.
** In situations where exterior rigid foam insulation is being installed, Cor-A-Vent recommends using ¾" thick treated wood furring strips installed over the foam, screwed into the wall studs, to provide a structural fastening point for the siding, and the
SV-5 Siding Vent
installed at the top and bottom to supply the rainscreen drainage, airflow, and insect screen.
Key Benefits
Drainage efficiency (per ASTM E 2273) -- 92%
7/16" thick by 3" high
Easy-to-handle 4-feet long sections
Pairs great with Sturdi-Strips, or other 3/8" to ½" thick furring
24 pcs. per carton (96 lin. feet)
Color: Black
Heat-resistant: made from profile extruded polypropylene plastic
Impact-resistant: screw, staple or power-nail in place
Crush-resistant: Will not compress like "drainage mat" products
Enhanced Insect Screen keeps bugs out - no extra work required!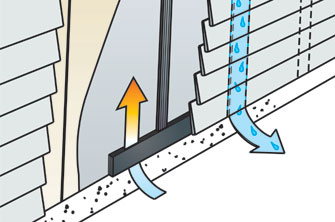 Q: How much SV-3 do I need?
A: SV-3 runs linearly along the top and bottom of the wall, as well as above and below windows or doors. Take the total length of all walls and multiply by 2 (for top and bottom), then account for above and below wall penetrations to determine how many linear feet of SV-3 you will need.
For 1-page SV-3 submittal sheet
Click Here
For Pdf of SV-3 Siding Vent with STURDI-STRIPS Detail Drawing
Click Here
.
For Pdf of Gable End Rain Screen Detail Drawing
Click Here
.
For Pdf Detail Using Siding Vents Around Wood Windows
Click Here
.
For Pdf Detail Using Siding Vents Around Vinyl Windows
Click Here
To Download DWG Siding Vents Cad Files
Click Here
.
Click here
for our complete list of Technical Drawings.
Click here
for the Rainscreen Siding Ventilation Guide.
Click here to learn about
Oregon Residiential Specialty Code R703
.1 requiring a rain screen space behind siding.
* Architectural spec for CAV Siding Vent System -- Section: 07 46 00 - Siding
Accessories: Furring Strips For Use Behind Sheet Siding: 3/8 inch thick x 1-1/2 inch wide polypropylene furring strips, attached vertically over air/moisture barrier at face of each supporting stud, to create capillary break between face of air/moisture barrier and back of siding, equal to Cor-A-Vent Sturdi-Strips with SV-3 Siding Vent continuous at top and bottom, by Cor-A-Vent Inc.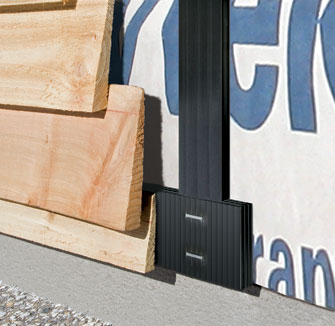 Product Packaging and Shipping Information (SV-3)
Pcs per Unit

24 - 4 foot piece
Shipping Weight per Unit

13 lb
To learn more about SV-3 Siding Vent
click here
to contact us.